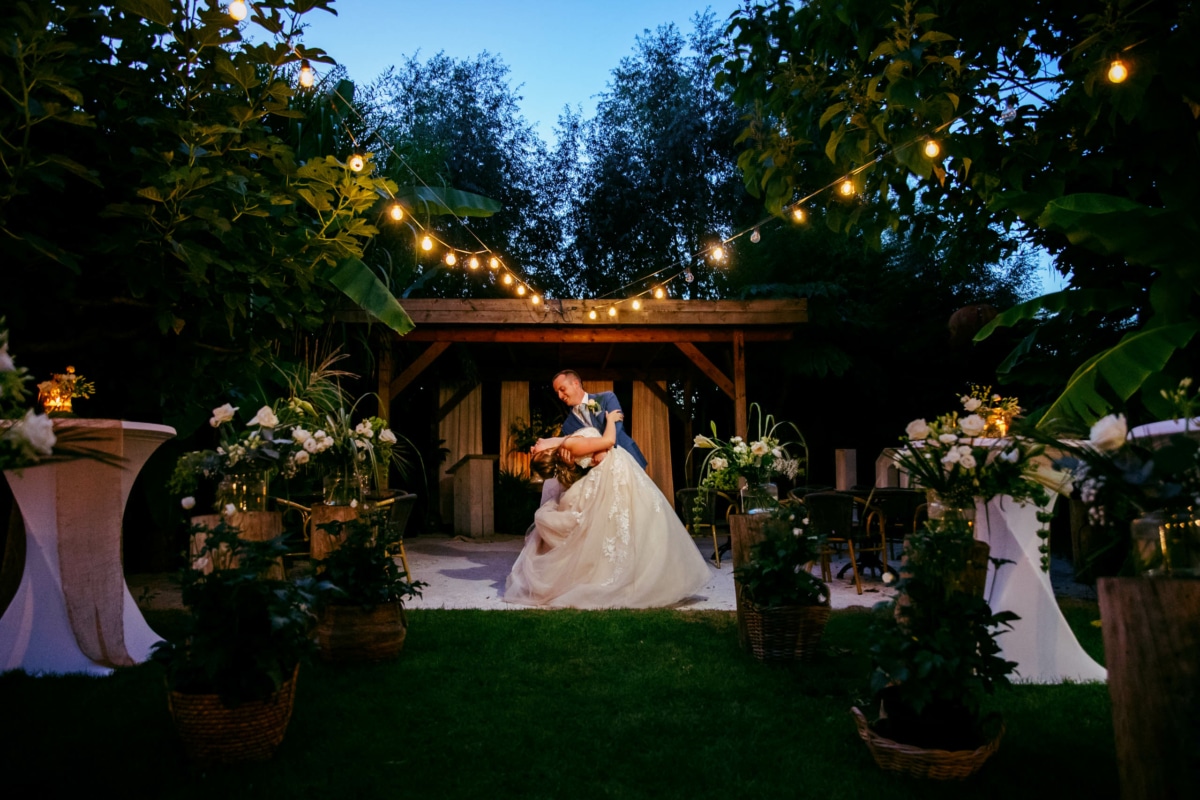 Questions to ask your wedding venue
When choosing the perfect wedding venue, it is important to be well-informed. There are countless things to consider, from capacity and catering options to accessibility and décor.
To help you make an informed choice, we have compiled a list of 10 key questions to ask a wedding venue. Answering these questions will help you find the right venue for your dream wedding.
Een aantal belangrijke vragen
1. Hoe groot is de ruimte die de locatie biedt?
Kunt u een schatting geven van hoeveel gasten er comfortabel kunnen worden gehuisvest? Is er voldoende ruimte voor zowel zittend dineren als dansen?
2. Hoe is de parkeersituatie bij de locatie?
Zijn er voldoende parkeergelegenheden beschikbaar voor alle gasten? Is valet parking een optie?
3. Zijn er aparte ruimtes beschikbaar voor de ceremonie en de receptie?
Zo ja, hoe ziet de overgang tussen deze ruimtes eruit?
4. Is er een huwelijk coördinator of evenementenmanager aanwezig die kan helpen bij het organiseren en coördineren van de bruiloft?
Zo ja, wat is hun ervaring en wat is hun rol op de dag zelf?
5. Wat zijn de cateringmogelijkheden op de locatie?
Wat is de kwaliteit van het eten en de service, en kan er rekening worden gehouden met speciale dieetwensen of allergieën?
6. Is er een geluids- en muziekinstallatie beschikbaar voor gebruik tijdens de ceremonie en receptie?
Is er technische ondersteuning beschikbaar om eventuele problemen te verhelpen?
7. Zijn er slaapkamers beschikbaar voor de bruid en bruidegom en eventuele andere gasten die willen overnachten?
Zo ja, hoeveel en wat zijn de kosten?
8. Wat zijn de mogelijkheden voor fotograferen op de locatie?
Zijn er specifieke plekken die populair zijn voor bruidsfoto's?
9. Wat zijn de mogelijkheden om extra decoraties of bloemen toe te voegen aan de ruimte?
Zijn er beperkingen of voorschriften waarmee we rekening moeten houden?
10. Wat is de totale kosten van de locatie en wat is inbegrepen in deze prijs (bijv. catering, muziek, decoraties, etc.)?
Zijn er verborgen kosten waar we ons bewust van moeten zijn?
11. Is de locatie beschikbaar op de datum van onze bruiloft?
Zo niet, wat zijn de alternatieve data?
12. Wat zijn de betalingsvoorwaarden voor de locatie?
Is er een aanbetaling vereist? Wanneer is de volledige betaling verschuldigd?
13. Wat is uw annuleringsbeleid?
Wat gebeurt er als we door onvoorziene omstandigheden moeten annuleren of uitstellen?
14. Is er een back-up plan voor slecht weer als de locatie buiten is?
Zo ja, hoe ziet dat eruit?
15. Zijn er beperkingen op het soort muziek of entertainment dat we kunnen hebben?
Zijn er beperkingen op het geluidsniveau of de eindtijd voor het feest?
16. Mogen we onze eigen leveranciers kiezen (bijv. fotograaf, DJ, bloemist), of werkt u uitsluitend met bepaalde leveranciers?
17. Is er een keuken beschikbaar voor catering?
Mogen we onze eigen cateraar meebrengen, of moeten we gebruik maken van uw interne catering?
18. Hoe betrokken is het personeel van de locatie op de dag van de bruiloft?
Bieden ze hulp bij de opzet en afbraak?
It is also advisable to ask for sample photos of previous weddings held at the venue, so you can get an idea of what the space will look like on the day of your wedding.
Have you looked at these yet?