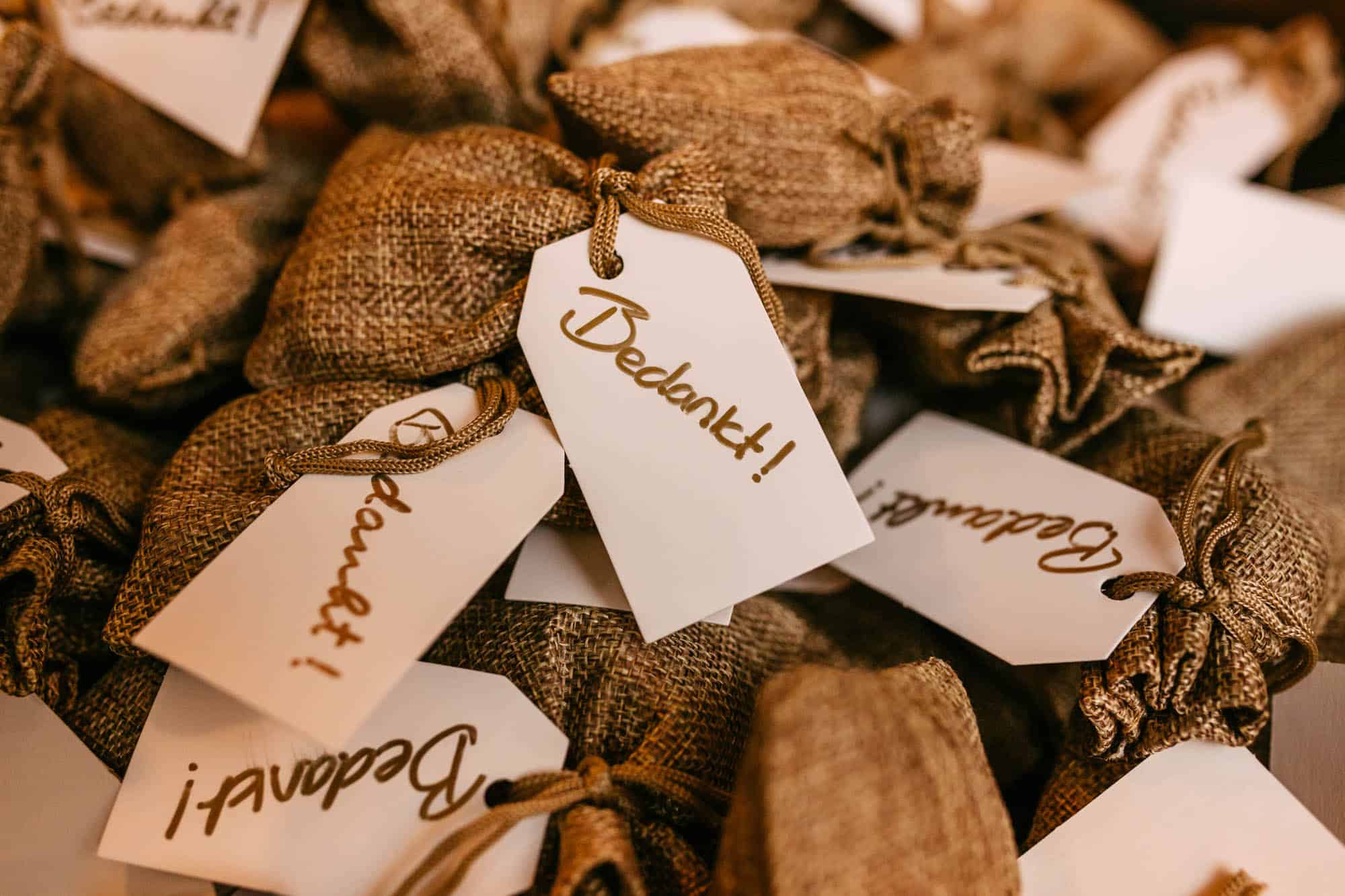 The time has come, your big day is approaching! After an unforgettable wedding full of love and happiness, you naturally want to give something special to your precious guests as a thank you for their presence. Picking the perfect thank you can be a fun, but sometimes challenging task. That is why we have compiled an easy-to-read list of various categories of thank yous, ranging from edible to non-edible, to help you find the ideal keepsake for your wedding!
Edible Thanks:
Chocolate Delights: Treat your guests to delicious chocolates in personalised packaging. Choose chocolates in the shape of your initials, the wedding date, or cute symbols that match your theme.
Luxury Macarons: Go for colourful and tasty macarons in elegant gift boxes. You can even match the colours to your wedding theme for an extra touch of personality.
Mini Champagne Bottles: Give your guests small champagne bottles with a personalised label. This way they can toast your special day at home.
Custom Cookies: Have biscuits made in the shape of your initials, a heart, or other fun symbols. Add a message to make the thank you extra special.
Non-edible Thank Yous:
Scented candles: Choose scented candles with a romantic aroma. They provide not only a pleasant scent, but also cosiness in your home.
Plantlets or Flower Seeds: Give your guests a small plant, such as a succulent or a flower seed in a pretty pot. This symbolises the growth of your love.
Personalised key rings: Have key rings made with your names and wedding date. That way, your loved ones will always carry a memento of your special day with them.
Same Day Prints from the Photographer: Give your guests the opportunity to receive a beautiful photo print taken on the same day. This will ensure your guests have a tangible memory of your wedding.
Other Thanks:
Thank you Notes: Write a personalised thank-you note to your guests and give it to them in a beautifully designed envelope.
Wedding Favor Bags: Create a gift bag with a mix of some of the above thank yous. This gives your guests the opportunity to choose something for themselves.
No matter which thank you gift you choose, the most important thing is that it suits you as a bride and groom and conveys your gratitude and love to your guests. Add a personal touch to the thank yous to make them extra special. Your guests will undoubtedly remember how wonderful your wedding was and how grateful you were for their presence!
Have you looked at these yet?