The Wedding Cake
Everyone is looking forward to broaching the wedding cake, it says a lot about the bride and groom. So you can see on this page how the environment and the wedding cake often fit together. The wedding cake is often broached at the beginning of the reception before the group photos be made, or in the evening as dessert. In this article, we show you a whole selection of wedding cakes for inspiration.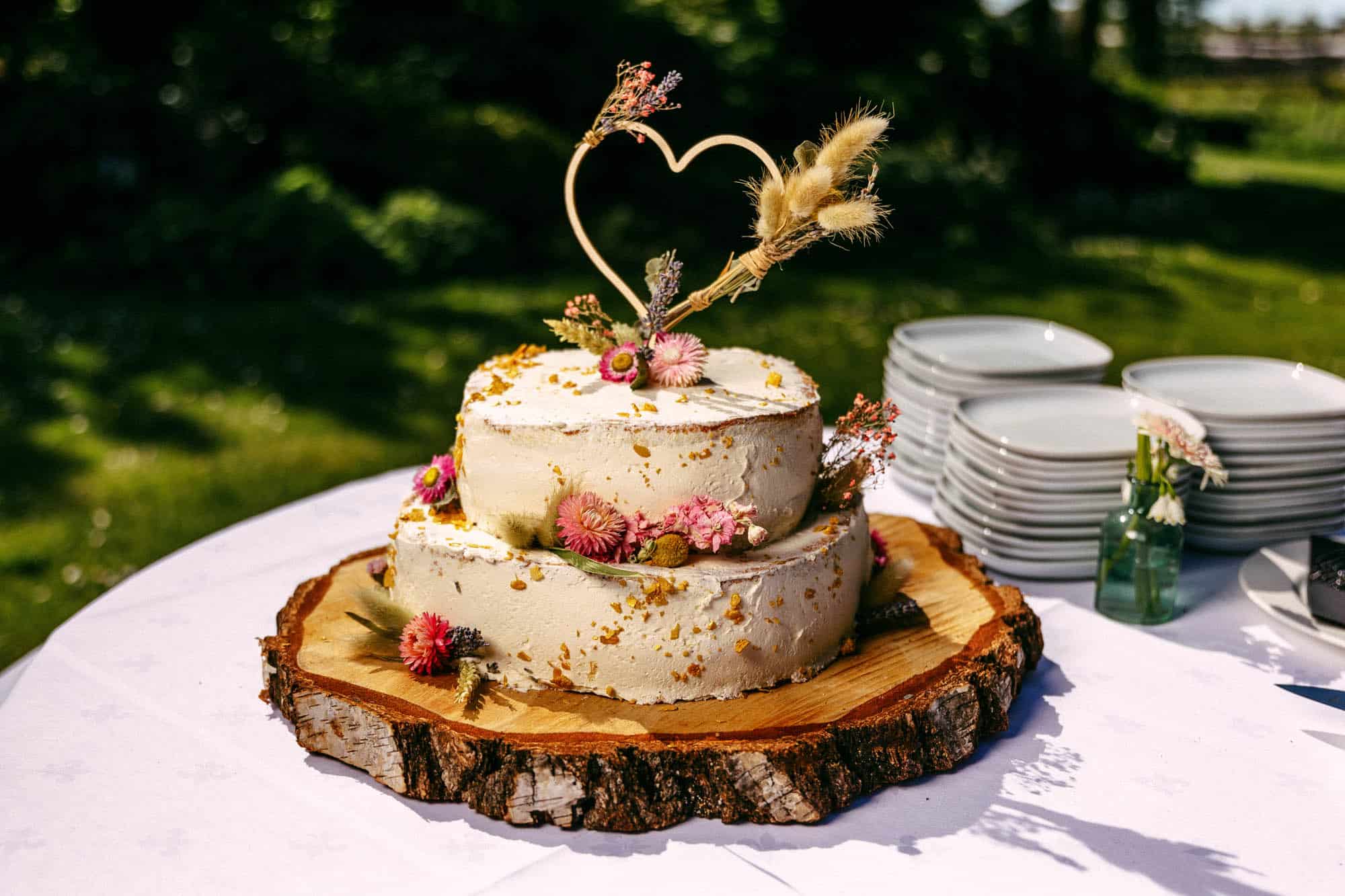 Different types of wedding cakes
Over the years, the supply of wedding cakes has exploded. There is now much more choice than the classic fondant-lined rose cake with vanilla cake. We discuss the most popular cake flavours and designs of recent years.
Should you want to save these cakes, you can do so using the Pinterest button at the bottom right of the picture.
For a better viewing experience, keep your mobile horizontal.
Flavours
Wondering which flavours are popular right now? Below we discuss the top 3 wedding cake flavours of this year.
Red velvet
The most popular flavour at the moment: red velvet. This fiery red cake of cocoa and cream cheese does well at weddings. The cake has the perfect shade to celebrate love. Red Velvet is the most popular cake flavour at the moment.
Lemon
A fresh lemon cake is perfect as a light cake at a (summer) wedding. One advantage of this flavour: you have plenty of room for tasty snacks and dinner after dinner. Lemon cake pairs perfectly with light vanilla cream and forest fruits.
Chocolate
With dozens of options for flavour combinations, chocolate cake remains at the top. The creaminess of dark chocolate can be perfectly combined with fresh fruit, vanilla cream or chocolate ganache. The options are endless.
Designs
Tastes are important, but the eye wants something too! Below, we discuss the most popular wedding cake designs of the moment.
Classic
The classic white layer cake remains one of the best-known wedding cakes. Have the cake decorated with softly coloured sugar roses and the picture is complete!
Cupcakes
In recent years, wedding cupcakes have gained great popularity. These playful cakes exude celebration and fun.
Naked-cake
The so-called 'naked-cake' has gained a lot of popularity in recent years. With these beautiful cakes, you go for a playful, fresh look. These cakes are ideal for couples who are not fans of the taste or look of fondant.
What does a wedding cake cost?
On average, a wedding cake between €3 and €9 per person from a group of 30 people. That's between €90 and €270 per wedding cake.
Confectioner
Creating a wedding cake is an honourable task for any pastry chef. A good pastry chef is 100% committed to baking a beautiful cake. Are you looking for a phenomenal wedding cake?
These wedding cakes have been created by, among others:
Which wedding cake will you choose? Leave a comment below the page.
Have you looked at these yet?